"In every walk with nature, one receives far more than he seeks." 
Throughout September, enjoy 63 free guided walks that connect you with the area's historical, cultural, and natural sites.  Housatonic Heritage Walks are offered Saturdays & Sundays throughout the month and range from tours of historic buildings, cemeteries, and town centers, hikes on the Appalachian Trail, walks through industrial heritage sites and ruins, walks and bike rides on old country roads that have a history, behind-the-scenes tours at various performing arts venues, and strolls through formal gardens and estates. The Walks take place at established heritage and cultural sites, as well as less familiar areas. Also included is a canoe paddling trip on the Housatonic River, and "family friendly" walks. All ages – all people are invited to join us! Local experts leading the tours will help participants explore the region's rich and varied historical, cultural, industrial and environmental history Housatonic river paddling trips.
A great many historically and culturally significant venues will open their doors to the public on these weekends. Natural resource conservation organizations provide access to many of the region's significant resource areas and provide interpretive talks about those resources.
(above quote from John Muir)
Click here to view the full schedule of Walks throughout CT & MA
Below are some of the upcoming local events:
 SATURDAY, SEPT  7, 2019
---
1 – Sheffield, MA        9 AM – 12 noon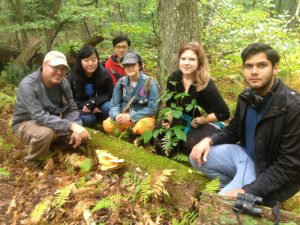 EXPLORE THE NATURE CONSERVANCY'S DRURY PRESERVE & MOON IN THE POND ORGANIC FARM
See how nature conservation and sustainable agriculture live harmoniously side by side. Explore the unique beauty and nature of Schenob Brook with a spectacular view of the Berkshire-Taconic mountains on a moderate hike with naturalist, Rene Wendell, from The Nature Conservancy.  We will also walk through the Moon In The Pond Farm and learn about this diverse, organic farm that TNC helped protect.
Wear sturdy footwear and bring drink/snack. It will be the height of fall bird migration, so bring your binoculars. 3  hours–3 miles     To register–rene.wendell@TNC.org or call  413-923-3173
GPS 42.081399, -73.378350   From Rt 7 in Sheffield center, turn onto Berkshire School Rd. Take a left onto Salisbury Rd; and after 1 mile, turn left on Barnum St. and drive 1.3 miles.  GOOGLE MAP
---
2 – Windsor/Savoy, MA           9:30 AM – 12 NOON
BOREAL SPRUCE-FIR FOREST, PLANT, TREE & WILD EDIBLE HIKE AT THE TAMARACK HOLLOW NATURE CENTER
This hike, led by naturalist and Tamarack Hollow director, Aimee Gelinas, will feature the unique high elevation flora of the boreal forest, including tips for tree, plant and wild edible identification. Hike is free (donations are accepted for support of the nature center). Supported by the Windsor Cultural Council and the Central Berkshire Fund. 2.5 hours–2 miles
Registration required–email aimee@gaiaroots.com
From Rt 9, in Windsor center, take Rt 8A north to Rt 116 in Savoy, and turn right onto Route 116 heading towards Savoy Center. Drive 1.1 miles through the center of Savoy (you will pass the Savoy General Store, then Windsor Jambs State Forest sign). Take your first right after the center of town, onto River Rd (mail boxes and two houses on each corner). Cross the bridge over the river and go immediately to your right, uphill – this is Griffin Hill Rd. If using a GPS, type in Griffin Hill Road, Savoy, to get to the beginning of this road. (there is a small "Tamarack Hollow" sign on a post). Continue up this road (turns to dirt) for about 1 mile until it ends at a "road closed" sign (you are now on Savoy Hollow Road, Windsor). Turn around in the driveway of #1515 or #1516 and park along the road facing north (or in the driveway of #1516)–Tamarack Hollow Nature & Cultural Center.   GOOGLE MAP
---
3  – Pittsfield, MA      10 AM – 12:30 PM 
URBAN MILL HISTORY TRAIL OF PITTSFIELD IN THE 1800's
Join John Dickson, from the Berkshire County Historical Society, for a historic walk through north Pittsfield along the Housatonic River and its tributary, Onota Brook. We will pass the buildings and remnants of 7 "major and once thriving" mills to examine the connection between the flowing water and industrial activity in the 1800's. Take a step back in time to find the buildings that are Pittsfield's history and hear about their origins and our ancestors who worked in them. Most of the walk will be on sidewalks/paved areas. These were the factories that drove Pittsfield's economy, and enticed thousands of workers and their families to come to Pittsfield in search of a better life.    2 hours–4 miles
Meet at the Pontoosuc Lake boat ramp on Hancock Road. Take Rt 7 to the southern edge of the lake, and turn onto Hancock Road. Boat Ramp parking lot is on the right just past the dam. GPS 42.484521, -73.247158   GOOGLE MAP
---

4 – Lee, MA                                10 AM – 11 AM
TOUR THE HISTORIC HIGH LAWN FARM, OUR JERSEY COWS, ROBOTIC MILKING & MUSEUM
Nationally recognized High Lawn Farm has been in continuous operation since the late 1800's. We are the last remaining, intact dairy farm in the Berkshires—producing, bottling and delivering our own milk—representing over 100 years in the same family. Certain families in the present herd of cows trace direct lineage across 15 generations to the original herd of 1918. Join Roberto Laurens on a walking tour of our dairy operation, the barns and museum. 1 hour-1/4 mile
GPS 42.3173, -73.2729 535 Summer St., Lee, MA. From the center of Lee, where Rt 7 crosses the Housatonic River, turn onto Summer St. and drive 1.5 miles.
---

5 – Sharon, CT                 10 AM – 12 NOON
HIKE TO THE SUMMIT OF THE MARIE MOORE PRESERVE
Hike to the summit of the Mary Moore Preserve, with the Sharon Land Trust, to take in a 30 mile view, including Bear Mountain, Mount Everett, and Mount Greylock. This is a moderate hike with some up's and down's. 2 hours–2 miles
GPS 41.8793, -73.4768     Meet at Williams Road Parking Area – at the corner of Route 41 and Williams Road – just a bit north of the Sharon Town Green
---

6 – Lenox, MA                 11 AM – 12 NOON
HISTORIC LENOX VILLAGE WALKING TOUR: VISUALIZING 250 YEARS OF HISTORY
Join Lucy Kennedy, from the Lenox Historical Society, for a tour of the village of Lenox, where we will view buildings from the Revolutionary War to the Gilded Age resort era on Main And Church Streets. 1 hour–0.5 mile
GPS 42.3565, -73.2848 Meet at the Lenox Historical Society, 65 Main Street, Lenox
---
7 – Stockbridge, MA                       1 PM – 2 PM
CHESTERWOOD: AN ARTIST'S LANDSCAPE
Explore the landscape of the home, studio and gardens of famous public sculptor, Daniel Chester French, who designed and sculpted the gardens and walkways after European estates. Learn about the mechanics that went into building a "Berkshire cottage" on this tour with Gerard Blache. NOTE: Does not include an interior tour. 1 hour–0.5 mile
GPS 42.284896, -73.352277    From Stockbridge, drive west on Rt 102, turn left on Rt 183. 0.25 mile past the Norman Rockwell Museum, turn right onto Mohawk Lake Road, then left onto Willow St., which becomes Williamsville Rd., just before reaching Chesterwood. Meet at the Barn Gallery.
---
8 – Stockbridge, MA       1 PM – 2:30 PM
A LEISURELY, PLEASANT STROLL OVER LAUREL HILL AND THE MARY FLYNN TRAIL
Join Patricia Flinn for a leisurely history walk of the Laurel Hill Association's signature property, and continuing on to the Mary Flynn Trail, which is handicap accessible. Wear sensible walking shoes. 1.5 hours–1.5 miles
Meet at the Stockbridge Town Offices building at 50 Main St., at the 'Town Offices' sign.  GPS 42.281649, -73.305837   GOOGLE MAP
---

9 – Monterey, MA           1 PM – 3 PM
A WOODLAND HIKE FROM GOULD FARM  TO THE BERKSHIRE NATIONAL FISH HATCHERY
In the early 1900's, life wasn't easy for William and Agnes Gould and their guests living and working on their new farm in Monterey.  Today—105 years later–Gould Farm is a thriving psychiatric rehabilitation program, thanks to their original vision and perseverance. Lisa Lewis and Bob Rausch will talk about Gould Farm's history, mission, and connection to the land as you begin your walk along the forested trails behind the Harvest Barn Bakery.
The second half of the walk will be led by Tom Mendelsohn, Berkshire Fish Hatchery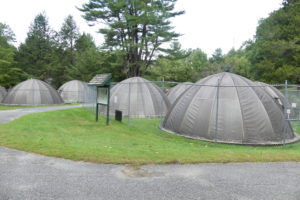 Board member. He will take you on a tour of the historic property, where, for over a century, hundreds of thousands of fish have been cultured in a pristine aquifer that supplies a system of beautiful, natural pools with 200 gallons of water per minute. Van service back to Gould Farm will be provided. Rain or shine. Bring drink, snack, sunscreen, bug repellant. 2 hours–3 miles
GPS 42.174770, -73.241113    From Rt 102 in Lee, at the traffic light at Big Y–take Tyringham Rd and drive 5.5 miles south, then turn right on to Monterey Rd and drive 4 miles to Rt 23 in Monterey center. At Rt 23, turn right, and drive 2 miles, then turn left onto Curtis Rd and drive 0.5 mile to Gould Rd. Turn left and continue to the 2nd driveway, to the Harvest Barn OR From the traffic light junction of Rts 7 & 23 in Gt. Barrington–Take Rt 23 east and drive 6.2 miles and turn right onto Curtis Rd and drive 0.5 mile to Gould Rd, then turn left and continue to the 2nd driveway, to the Harvest Barn.  GOOGLE MAP
---

10 – Mount Washington, MA
2 PM – 4 PM–rain date 9/8
THE VIEW FROM "THE DOME"–HIKE AT MOUNT EVERETT STATE RESERVATION
The Dome, also known as Mount Everett, has figured prominently both in the landscape and history of the southern Berkshires. Notable scientists and luminaries have chronicled their impressions of this place. Follow in their footsteps as we ascend to the top of The Dome for a sweeping view of the Housatonic River Valley and into New York State.
Join Alec Gillman, of the Department of Conservation and Recreation, for a rigorous hike up the Appalachian Trail to the summit of Mount Everett (a 500 foot elevation gain over 0.7 mile). Along the way we will dip into the past, recounting some of these colorful stories, and allow for the opportunity to create your own impressions of The Dome. Wear comfortable, sturdy boots/shoes, hiking poles, appropriate clothing for weather, insect repellent, plenty of drink/snack. 2 hours–1.4 miles round-trip
GPS: 42.106535,-73.4365745   Mount Everett State Reservation – approximately 123 East Street, Mount Washington, MA, is 7.5 miles from the intersection of MA Routes 23 and 41 in South Egremont; or 5.4 miles from NY Route 22 in Copake, NY, via NY route 344. Look for the State Reservation sign. Then follow the dirt Mount Everett Road for 2 miles uphill, past Guilder Pond, to the Appalachian Trail parking lot.
---
    SUNDAY, SEPT  8, 2019
---
11 – Gt. Barrington, MA       10 AM –  11 AM
AN INTERPRETIVE STROLL ON THE HOUSATONIC RIVER WALK – BERKSHIRES' NATIONAL RECREATION TRAIL
Join the Greenagers on a tour of this designated National Recreation Trail that follows the Housatonic River as it flows behind Main St. Incredible volunteer efforts removed 400 tons of debris from the river and developed a trail that respects nature and reveals the river's beauty. Learn of the historic, cultural and ecological significance of the river.   1 hour–0.5 mile
Meet at the Du Bois River Garden Park at Church St. and River St. The River Walk is located in the heart of Great Barrington. Parking is located off of Rt 7, on Bridge St., behind the Searles Bryant building (across the street from Memorial Field).   GPS 42.193751, -73.359233   GOOGLE MAP
---
12 – Lenox, MA       10 AM – 12 PM     
A WALK BACK IN TIME TO THE BERKSHIRES GILDED AGE HISTORY AT KENNEDY PARK
Enjoy a hike through Kennedy Park to discover who some of the first inhabitants were and imagine going back in time to the Golden Age Era. Lenox truly has a unique treasure right in the middle of town–with magnificent views of Mount Greylock to the north, and the Catskills to the west.
The late Hotel Aspinwall was built in 1902 on the ledges at an altitude of 1,460 feet. This leviathan was touted as "Hotel Beautiful" with many famous people sojourning to its splendor. After the fire of 1931, all that is left are some cellar holes and skeletal remains of what had been a glorious era. Jan Chague, of the Lenox Historical Society, invites you to join her on this moderate hike as we meander back into history at this lovely, colorful time of the year. Wear sturdy footwear and bring snack/drink.  Rain will cancel  2 hours–3 miles   To Register: jg_chague@hotmail.com OR 413-637-1818
GPS 42.382866, -73.278640    Meet in the parking lot at the Arcadian Shop on Route 7/20, Lenox, MA (north of Lenox Ctr)           GOOGLE MAP
---
13  – Becket, MA     10 AM – 12 PM
EXPLORING THE BECKET LAND TRUST'S HISTORIC QUARRY & FOREST
Enjoy a leisurely hike to explore the historic quarry with Becket Land Trust founders, Ken and Ann Smith. Learn about granite quarrying from 1850-1950's. Witness the quarry, now filled with water, surrounded by stands of beautiful white birch trees and the standing wooden derrick and winches. Hear how the Trust saved this property for recreation and developed miles of hiking trails. Wear sturdy footwear & bring drink/snack.   2 hours–2 to 3 miles
From junction of Rts 20 & 102 in Lee, take Rt 20 east and drive about 14 miles, to the junction where Rt 8 turns left off Rt 20–here, you will turn right on Bonny Rigg Hill Rd. Drive about 2 miles and turn left on Quarry Rd. and drive for 1 mile, parking is on the right.  GPS 42.251165, -73.020148   GOOGLE MAP
---
14 – Lee, MA                10 AM – 2 PM
HIKE THE FIRST SECTION OF THE PROPOSED "HIGHLANDS FOOTPATH"  & LEARN OF THE CIVILIAN CONSERVATION CORPS (CCC) IN OCTOBER MT. STATE FOREST
Join us for a hike on the proposed new-trail partnership between the "Highlands Footpath" & "The High Road" (an initiative of the Berkshire Natural Resources Council). Hike leaders, Highlands Footpath volunteer Meredyth Babcock, Mariah Auman from BNRC, and Alec Gillman from the Mass Dept. of Conservation & Recreation, will take you for a hiking sampler of the start of the newly proposed 40-mile "Highlands Footpath", on the scenic Gorge Trail uphill to Felton Pond, to an overlook to take in the view of the scenic valley below. We will discover forgotten rustic features built by the CCC some 80 years ago and hear stories about  October Mountain State Forest.
The CCC, a "New Deal program" during the 1930s Great Depression, improved public parks and forests nationwide. The program inspired a recreational heritage that we still enjoy today and one that we are expanding on through the development of this new long distance footpath from Lee, through Becket, Chester, Worthington, Chesterfield and Cummington to the DAR State Forest in Goshen. Learn about the Highlands Footpath–a joint effort of the Berkshire Regional Planning Commission, the Pioneer Valley Planning Commission, The Trustees of Reservations, The Nature Conservancy and Westfield Wild & Scenic River Committee, and local trail groups. A moderate, uphill hike with a 700′ elevation gain. Wear sturdy footwear, appropriate clothing for weather, bring lunch and drink.  4 hours – 3 miles
From the sharp corner on Rt 7, at Mobil station and railroad tracks, in Lee, take Center St. east and shortly bear left on Columbia St. and continue until the junction of Bradley St. and Greylock St. Take left onto Bradley St. and soon cross Mill St. Stay on Bradley St. which soon changes name to Woodland Road and continue until reaching the junction of 286 Woodland Road and Valley St., next to Woods Pond. Meet here, where a shuttle van is available to the trail head.   GPS 42.347414, -73.239887    GOOGLE MAP
---
15 – Dalton, MA              1 PM – 3 PM
NATURAL AND CULTURAL HISTORY OF WAHCONAH FALLS
This hike, led by Naturalist and Tamarack Hollow Nature and Cultural Center Director Aimee Gelinas, will weave through hemlock groves and glacial erratics and along a cascading brook and falls. Learn to identify trees and plants along the way and visit the remnants of the Booth Talc Mill that once utilized the brook for power and learn about its fascinating history. Hike is free (donations accepted to support the Nature and Cultural Center). Supported by the Dalton Cultural Council & the Berkshire Taconic Community Foundation – Berkshire Environmental Endowment Fund. www.tamarackhollownatureanculturalcenter.org 2 hours–2 miles
Registration required – aimee@gaiaroots.com
GPS 42.489304, -73.11492   GOOGLE MAP
For directions to Wahconah Falls, visit: https://www.mass.gov/locations/wahconah-falls-state-park
---
16 – Gt. Barrington, MA                           1 PM – 3 PM
THE 1890's GREAT BARRINGTON OF BLACK ENTREPRENEURS JASON & ALMIRA COOLEY
Join Bernard Drew, from the Gt. Barrington Historical Society for this walking tour. The Cooleys were in domestic service to the Bigelow family on Main Street in the 1870s. They were popular cooks at the annual Housatonic Agricultural Society fair and came to own a succession of restaurants on Main Street in the 1880s and '90s.
They had the first Black bed-and-breakfast in the Southern Berkshires. They built one of the first homes in the Brooklyn section of town; and they knew W.E.B. Du Bois. Jason was a founding trustee of Clinton A.M.E. Zion Church. Two of their homes and several business locations still survive today. Note: Does not include a tour of the church interior, which is currently under reconstruction. 2 hours–1.5 miles
GPS 42.1960679, -73.3624538   Start at the Clinton A.M.E. Zion Church, Elm Court, off of Main St. in the center of Gt. Barrington. From Main St., turn onto Elm St. (located between Berkshire Bank and Carr Hardware). Drive just a bit on Elm St. and then to Elm Court on the right.
---
17 – Sheffield, MA         1:30  PM –  4 PM
A GENTLE WALK ON THE SHAYS REBELLION SECTION OF THE APPALACHIAN TRAIL
Join Appalachian Mountain Club leader, Bess Dillman, for a walk starting at the monument commemorating the last battle of Shay's Rebellion in 1787, then walk through fields, hardwood forests, and across a swampy area on a boardwalk, to the railroad tracks and Rt 7. The trail is uneven with roots and rocks; however, this section is one of the flattest sections on the AT and is a lovely walk through a variety of habitats. Wear sturdy footwear.  4 miles–2.5 hours
From Rt 7 in Sheffield–Driving south on Rt 7, drive 2.2 miles from the Big Y store in Gt. Barrington and take a right onto Lime Kiln Road and drive 1 mile and turn right–you will immediately see the monument on the right and AT parking area on the left. From Rt 23/41 in Egremont–take Sheffield Road and drive for 1.7 miles to the AT parking area on the right and the Shay's Rebellion marker on the left.   GPS 42.146643, -73.386013    GOOGLE MAP
---
18 – Lenox, MA      2 PM – 3 PM
WALKING TOUR OF THE CHURCH ON THE HILL CEMETERY–GENERALS, JUDGES, WRITERS & ORDINARY HEROES
Join Lucy Kennedy, from the Lenox Historical Commission, for a tour of the Lenox Church on the Hill Cemetery; which dates back to 1771 and includes town founders, Revolutionary War heroes and others with interesting histories to tell. 1 hour– <0.5 mile
To register–lenoxhistory@gmail.com
GPS 42.3565, -73.2848   Meet at 169 Main St., Lenox Church on the Hill parking lot (corner of Greenwood & Main St.)
---
19 – Washington, CT      2 PM – 3 PM
STEP BACK IN TIME: NATIVE AMERICAN HERITAGE WALK AT THE INSTITUTE FOR AMERICAN INDIAN STUDIES
Archaeologist, Dr. Lucianne Lavin will lead a walk along the museum's trails and end at a replicated 16th century Algonkian village. Glimpse into the history and culture of the local Pootatuck tribal peoples, learn about their medicinal plants, and hear of their community life and spirituality. Wear sturdy footwear. NOTE–Does not include a tour of the museum interior, which, for a fee, can be arranged before or after the free Heritage Walk. 1 hour– < 1 mile To register–860-868-0518 or email general@iaismuseum.org
GPS 41.610699, -73.325217     Drive on Rt 67 towards Roxbury. Turn onto Rt 199 and follow for 2 miles, then turn onto Curtis Road and drive to the end. IAIS is the last driveway on the right. Meet inside the gift shop.   GOOGLE MAP
---
20 – Pittsfield, MA                   2 PM – 3:30 PM
GEOLOGY OF HANCOCK SHAKER VILLAGE
Spend an afternoon, with John Parker, walking around historic Hancock Shaker Village, exploring the rocks, stones, landforms, evidence of glaciation and out on the Farm & Forest Trail, where you'll look for evidence of glaciation, quarries, and other secrets of the earth. NOTE: This walk does not include general admission to the Village.
For a fee, admission to the Village can be arranged before or after the free Heritage Walk. Wear sturdy footwear. 1.5 hours–approx. 2 miles
To register– 413-443-0188 x-0 or info@hancockshakervillage.org
GPS 42.430911, -73.340498   Meet at the HSV Visitor Center/ticket desk, main entrance, on Rt 20 (34 Lebanon Mt. Road), Pittsfield/Hancock. From the junction of Rt 41 & Rt 20 junction- drive west on Rt 20 for 1/2 mile to the HSV entrance.